With the coming of a super-aging society, more and more people will require services like medical treatment and nursing care. Everyone wants to stay healthy however old we become, but if we do need medical treatment or nursing care,
we still want to lead happy lives. Perhaps a super-aging
society, rather than being something to fear,
can be one full of kindness and joy where we can have more
rewarding, stress-free lives than now.

What can we do to make such a society reality?
KOYO GROUP is constantly focusing on how to achieve this.

KOYO GROUP is working to help build a happier society through both
our human resource capabilities and our product capabilities.

Bringing the voices of consumers into product development.
Pursuing comfort for each individual.
KOYO-DISPARS, as Japan's only specialist manufacturer of adult disposable diapers, has worked hard to develop comfortable, easy to use products for both care-receivers and care-givers.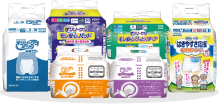 When our Utility Solutions first started, cloth diapers were still the standard. We developed diverse products matching the needs of individual users while continuing our steady efforts to change perceptions in both hospitals and care facilities. Developing products matched to our customers and offering solutions for product combinations and usage is more important than ever as needs diversify with the rapid onset of the super-aging society. Utility Solutions is the core of KOYO-DISPARS and expresses our genuine spirit of thorough service to help people in need.

Fulfilling the needs of actual medical care situations.
Focusing on true convenience inside hospitals.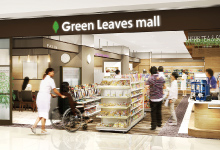 Convenient Solutions for hospitals and care facilities provides products and services reflecting the voices of patients and workers. The difference to ordinary city convenience stores is that the majority of visitors have some sort of disability, whether through illness or old age. KOYO SHOP-PLUS believes that true convenience for such users means not just efficiently lining up popular products but also ensuring a shop that has the right amount of the products that are actually needed.
For example, we ensure a full selection of medical materials and care products, and happily taking orders for even a single item. We will also develop online shopping services to support medical treatment and life under nursing care after leaving the hospital, as well as other services to ensure true convenience inside the hospital.

Safe, delicious, and also convenient.
Providing caring meals even in the busiest places.
Our involvement in restaurants and cafés inside hospitals and care facilities is a service we established through once again listening to the needs of users.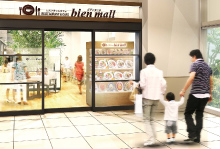 Due to the serious lack of human resources in the frontlines of medicine and care work in recent times, workers in such places are kept busy from morning to night. This situation emphasizes the need for quick meals that can be eaten with ease. KOYO FOOD SERVICE provides a wide range of takeout products, bakery-cafes with freshly-baked bread, and spaces where people can enjoy safe, quick and simple meals that are freshly made and taste excellent. Due to the focus on health in recent years, we have prepared healthy menus under the instruction of senior nutritionists. Through these and other efforts, we seek to heighten the satisfaction of our users and provide meal services that will bring a smile to your face.

Facilities for comfortable staying and human resources development.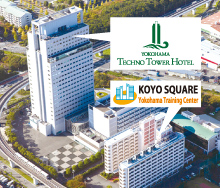 KOYO SQUARE has large-scale training conference facilities "Yokohama Training Center" and "Yokohama Techno Tower Hotel" in Yokohama Kanazawa-ku. 2facilities are adjacently, located good place for tourist to Hakkeijima and Kamakura area, and also for the business people around Yokohama. As training centers we have full-featured and environment that can meet all needs of training and seminars for executive training program, new employee training program, student study training camp, and even long-term, and short-term. Though it is located less than 60minutes from the center of Tokyo, we have capacity of more than 500people.
We are also focusing on the training for overseas people to work in Japan as staff members of medical, and healthcare field. We work on this project as a KOYO GROUP for the sake of our group customers.


KOYO Co., Ltd.
HQ Address
1-5-1 Fukuura, Kanazawa-ku, Yokohama, Kanagawa, 236-0004, Japan
TEL:+81-45-701-2210 FAX:+81-45-781-1886
Established
May 29, 1973
Business Details
As the group holding company, sets and advances group business strategy, audits group business, manages group technical development and intellectual assets, and conducts other business administration.
Representatives
Executive Chairman Katsumasa Takagi
President and CEO Takamasa Takagi
KOYO-DISPARS Co., Ltd.
HQ Address
1-5-1 Fukuura, Kanazawa-ku, Yokohama, Kanagawa, 236-0004, Japan
TEL:+81-45-781-1870 FAX:+81-45-781-1877
Factory
Wakasa Factory(Fukui Prefecture)
Business Details
Manufacturing and retail of the "Dispars" and "Only One" series of adult paper diapers, medical disposable products, a variety of nursing products etc.
Representatives
President and CEO Takamasa Takagi
KOYO SHOP-PLUS Co., Ltd.
HQ Address
1-5-1 Fukuura, Kanazawa-ku, Yokohama, Kanagawa, 236-0004, Japan
TEL:+81-45-701-2203 FAX:+81-45-701-2250
Business Details
Operation of retail points and convenience stores inside hospitals and other facilities, operation of the medical materials retailer Medical Smile, provision of other services inside hospitals and other facilities.
Representatives
President and CEO Takamasa Takagi
KOYO FOODSERVICE Co., Ltd.
HQ Address
1-5-1 Fukuura, Kanazawa-ku, Yokohama, Kanagawa, 236-0004, Japan
TEL:+81-45-752-7000 FAX:+81-45-786-5331
Business Details
Operation of restaurants, bakery cafes etc. inside hospitals and other facilities, handling of medical meals and meal delivery.
Representatives
President and CEO Takamasa Takagi
KOYO-SQUARE Co., Ltd.
HQ Address
1-5-1 Fukuura, Kanazawa-ku, Yokohama, Kanagawa, 236-0004, Japan
Offices
[Yokohama Techno Tower Hotel]
1-1-1 Fukuura, Kanazawa-ku, Yokohama, Kanagawa, 236-0004, Japan
TEL:+81-45-788-7410 FAX:+81-45-788-7411
[Koyo-Square Yokohama Training Center]
1-5-1 Fukuura, Kanazawa-ku, Yokohama, Kanagawa, 236-0004, Japan
TEL:+81-45-701-2146 FAX:+81-45-789-4671
Business Details
Lodging industry (operation of hotels, training centers, restaurants), overseas human resource development industry
Representatives
President and CEO Takamasa Takagi
Domestic Bases
of Operation

Branches:
Hokkaido, Tohoku, Kitakanto, Nagoya, Osaka, Chugoku, Kyushu
Sales Offices:
Akita, Morioka, Fukushima, Niigata, Nishi Tokyo, Shizuoka,
Kanazawa, Sanin, Shikoku, Fukuoka Higashi, Fukuoka, Nishi Kyushu